Welcome to the new Weekly Review of Dance Music. For the third time in my two and a half year history, I have given the site a full redesign.
The design process started two days ago. During that time, WRDM has been stripped back and completely rebuilt from the ground up. The changes range from aesthetic this joke does not work as well as I thought it was going to.
To celebrate the exciting, new-look design of WRDM, I asked my favourite lady DJ to join me at the Northolt Harvester for a sit down, a drink and a gossip about her career to date…and her thoughts on the future. My door got knocked at 10.30am Saturday morning. I nakedly opened the living room window with no clothes on and shouted down at the figure below to give me twenty minutes because I "wasn't ready". I quickly jumped in the shower, had a shave in all the right areas and brushed my teeth. On went the crisp, blue Soho jumper, black pants, Uni-Qlo jeans and Uni-Qlo winter coat with grey socks and a splash of Joop. With PM Dawn still blasting from the stereo, I put my dark blue Nike trainers on and went downstairs to join a beautiful, young lady DJ for a walk around the corner.

Some people say that Dinky is Chile's answer to Tania Volcano from Uruguay, or the female Zip. I like to treat my DJs with a little more respect than that, so I say this from the heart; Dinky is a lovely young lady who also happens to DJ around the world and produce productions that range from ambient home-listeners to melodic dance floor fillers. She also has a new single out called Xanex, taken from last year's fucking brilliant Dimension D album.
Lads, I did think about trying it on but read these MASSIVE QUESTIONS and you'll see why I thought twice about licking my lips in Dinky's direction. I stared at the ring finger on her hand, I wanted her to be a big Tonka fan.

Here's what we ended up discussing...
Q) For anyone unfamiliar with the name Dinky, could you tell them who you are, what you do and why you do it?
A) I am a musician originally from Chile, living in Berlin since 2003. I also lived in New York during my late teens and early twenties, which is where I started DJing and producing music.
I was lucky to have a musical upbringing and a few professional musicians in my family so I grew up surrounded by piano playing, singers and guitarists.
I have a residency in Panorama Bar as a DJ here in Berlin and I share an amazing recording studio in Tempelhof with my husband, Matthew Styles.
I love to DJ and to produce electronic music but I also have a huge passion for acoustic music like jazz and singer-songwriter stuff.
I play Piano, guitar and I trained in singing.
Q) Has establishing yourself in the music industry been hard work or easy peasy lemon squeezy?
A) I think depends how you see it, I worked hard from a young age, learning to produce. I was reading a lot, visiting studios, asking questions and making mistakes.
I also worked hard perfecting my DJ skills, making demo tapes, organising parties, playing everywhere and collecting music 24/7, but I was so young that for me it really didn't seem like hard work, now I look back and I was quite obsessed.
Other things came more like a surprise, like Acid In My Fridge for example; I wrote that song in a few minutes around the year 2001 with one machine and a mic. Later, it became huge and it was perfected in a bigger studio.
I feel like sometimes working hard really pays off, and that is important, but a lot of big things are achieved when one least expects it.
It's essential to be natural and enjoy what you do, when it becomes painful and a drag then it's like an office job: you just want the day to end. I never felt like this with my career apart from sometimes when I am fed up of being in an airport and I really want to be home!
I do have a tendency to be very disciplined. I think it comes from my dance education, I practice instruments and sing daily, for some people that might seem like hard work but for me it comes naturally. I don't feel like I am hard working when I am enjoying what I do, even if it takes me years to achieve.
Q) Open or closed hi-hat?
A) Closed with a few open in between.
Q) What made you choose the moniker Dinky as a DJ name? Did you ever toy with the idea of prefixing it with DJ, like a proper DJ (DJ Dinky), or suffixing it with something more exciting like Chilean Beatz (DJ Chilean Beatz) or Señora Bass (DJ Señora Bass)?
A) Haha, well I didn't choose Dinky per se; I was called Dinky from birth and I wanted to be called the same name that my friends and family called me. It was easy like that…
At one point I was Miss Dinky (I did my first album as Miss Dinky in 2000 on Traum). Later on I realised that I didn't want people to know if I was a girl or guy so I took out the Miss in 2001. I never thought of changing my name to a Latin themed name but I have thought of using my real name for my more acoustic projects.
Q) Acid In My Fridge is almost ten years old. Did you think that it would still be mentioned in interviews with you a decade on?
A) Well, it's technically around 13 years old. When I wrote it I thought it was catchy but didn't think so much of it. Later on when Magda and Rich started playing it, it became obvious it had potential but it sounded pretty average; the kick was over-compressed and it lacked bass…I had a tiny studio back then.
It was only when we mixed it at Tobi Neumann's studio here in Berlin when we realised it could be massive. Then Sven signed it and that was it.
Q) When you're in a club as a punter and you hear a track of yours being played, do you proudly nudge the people around you or do you roll your eyes, say "tsk" and then creep off to the toilets?
A) I have total self-confidence and total self-doubt! So neither to be honest. Sometimes I start analysing everything I don't like about it and sometimes I'm just happy to hear it loud and I enjoy it…
Q) Who approached whom about you producing an album for Visionquest?
A) It was mutual. I started sending my music to Seth a while ago after he asked me about some tracks. He was really into Acid in my Fridge so we released a single together (Time To Lose It) and later I showed him the Dimension D stuff, and he fell in love it with it.
I had other plans with the project then so I wasn't planning to release it on VQ but later on those plans didn't go through and I went back to them and offered the album. They were super happy and took it right away. I was happy that they were the first people to like the project and it ended up with them.
Q) What is Seth Troxler
really
like?
A) He's just like he appears, funny, crazy, and a humble and interesting person that has good days and bad days like all of us.
Q) Your new single, Xanex, is remixed by Tuff City Boys and Roman Flügel. How are these decisions arrived at? Do you get people offering to remix your music and you make a choice or are certain people selected by you and/or Visionquest to contribute towards the singles package?
A) We exchange ideas by email and we start approaching people until we find the right choice. Most of the time it's quite easy and we agree rather fast, the problem is that many great remixers/artists nowadays don't have time to do it or are too busy to do remixes that don't pay an extremely high fee so it can take a while to find the right choice that's not going to make the label broke or the release wait an eternity.
Q) Jorge Zabaleta or Horatio Sanz?
A) I am surprised you know these people. Haha, I am not exactly familiar with them I am sorry!
Q) My mate told me that you studied the Suzuki method of piano before relocating to New York to become a contemporary dancer. Are you able to employ either of these skills into your day-to-day life anymore?
A) I did when I was a child, yes. I did the 'playing by ear method', which is the Suzuki method when I was, like, super little…and that helped me tremendously. I also learned notation eventually and I do a lot of notational reading today, but I am very thankful that my first experience with music was not strictly notated, but by ear and musical games. It does help now to relay in my ears more than a piece of paper. I know people who can't play anything unless they have the sheet music in front of them. I don't think that's a good thing.
As a dancer I do apply it in my music, maybe not so consciously but in the sense of rhythm and space. I've also done videos with movements and dancers in them.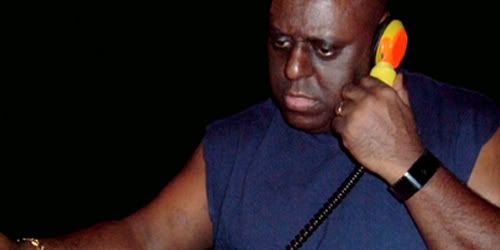 Q) Curate your fantasy club night. What's it called? What's the line-up (dead or alive)? Where's the venue? Is there a dress code?
A) I would use the old Shelter location and sound system in New York but bring it to Berlin where the laws and people are more relaxed. There's a wooden floor, a giant disco ball, soft red lights and a big warm bass that is pleasant and loud enough, but not intrusive.
There are no rules musically. I'd like to hear disco, house, Detroit, soul, funk and anything good. There are people from all races and colours, some dressed up and also people that don't dress up at all…no rules.
I would probably invite Harvey, Larry Levan, Tony Humphreys, David Mancuso and my husband to DJ, so a mixture of dead and alive DJs…!
Q) What advice do you have for any of my younger readers who are looking to break into the music industry?
A) I guess there are a few ways to approach the music industry, the main two are:
The keen and pushy way where you attend all raves in the world, work on your network and meet the key people in the industry. Spend all your money socially to get somewhere and pay someone to produce you a great track…that's the easy way, but you need money for that and maybe not much talent but great social skills. It works for many people but the goal is usually money and fame motivated and not so much about the music.
The other way, for me: the only way, is doing what you love most which is in this case music. Being honest and natural, studying, practicing, spending lots of time in the studio and trying to improve your musicianship. This is my preferred method as I really love making music and performing more than anything else. This method might be a little slower for some people, but it does plant your feet firmly on the ground unlike the former which is quite volatile.
You shouldn't be replaceable if you want to be living as an artist/musician for a long time, and that can only be achieved by cultivating your musicianship and creativity. Of course, we shouldn't forget to socialise and meet people from the industry but music should always come first.
My favourite artists have achieved their career this way.
Q) Stone cold sober or absolutely fucking terminated?
A) At the moment I am pregnant so I've been sober for almost 8 months and I am loving it, I don't take drugs but I do like my drinks usually.
I did experiment with psychedelic drugs when I was younger and it was fun, but I realised that I love being sober because what I hear, feel and see is the reality.
After being in altered states I would never feel the same thing about a song or a place again sober, nowadays if I feel something is magic it stays this way and I don't get disappointed later.
Q) What are your plans for 2014?
A) I am touring very little now as I am 6 months pregnant, so I am only doing really easy gigs till February with my husband.
I did some remixes that will come out in March but I am very busy planning motherhood and a new house that we are building in Berlin.
I am planning to make some music if time allows in the next few months but for now I am concentrating on our family and our boy's arrival.
The plan is to take some time off work to be with my baby boy and enjoy him as much as possible before I go on the road again.


What a lovely young lady! I'm not just saying this because she's peering over my shoulder, but I think that was the best MASSIVE QUESTIONS of the series so far.
Let me know what you think of the brand new Weekly Review of Dance Music on the streets, on Facebook, on Twitter and on email. I couldn't give a fuck if you don't like the new design though, it's all about the content. Just ask RA. Check out all of the whingy, bed-wetting cunts on
THIS
Resident Advisor comments page moaning about how the new font is too big, and how the site hasn't been designed with PCs in mind, and how they can't find the forums, and how Resident Advisor just isn't as good any more. It's been one fucking day. Everyone who's moaning about a website redesign needs their fucking heads testing. Just read the fucking content on the site, have a look at your lives and drop a pill or something. Stop moaning. NOW.
I'll be back next Tuesday with MORE MORE MORE content, MORE MORE MORE MASSIVE QUESTIONS with Ian M and MORE MORE MORE dance music news and reviews. I also moonlight on
Ran$om Note
and, from time to time,
Meoko
.
Ps. I'll be signing copies of THIS website, the world famous Weekly Review of Dance Music, at The
Heavenly Social
on Friday night. Sean Johnston and a very, very, VERY special guest are playing. Join me.